Monaco Globe Series: 3rd position for Fabrice Amedeo and Eric Péron
Leaving Monaco on Sunday, June 3 at 1 pm, Fabrice Amedeo and Eric Péron have completed the great circle of the first edition of the Monaco Globe Series this Thursday morning, at 10 hours 11 minutes and 10 seconds after having surrendered to a superb fight. For three days, the duo of Newrest - Art & Fenêtres played at the forefront in the Mediterranean weak airs, making the most of a boat less advantaged than its direct competitors in these erratic conditions. Tired but happy, the two sailors hang a beautiful third place, in the wake of Paul Meilhat / Gwenolé Gahinet (SMA) and only 8 minutes after Isabelle Joschke / Alain Gautier (Monin). They also make their mount the first foiler of the event. A deserved result that augurs beautiful things in the perspective of the Route du Rhum - Destination Guadeloupe.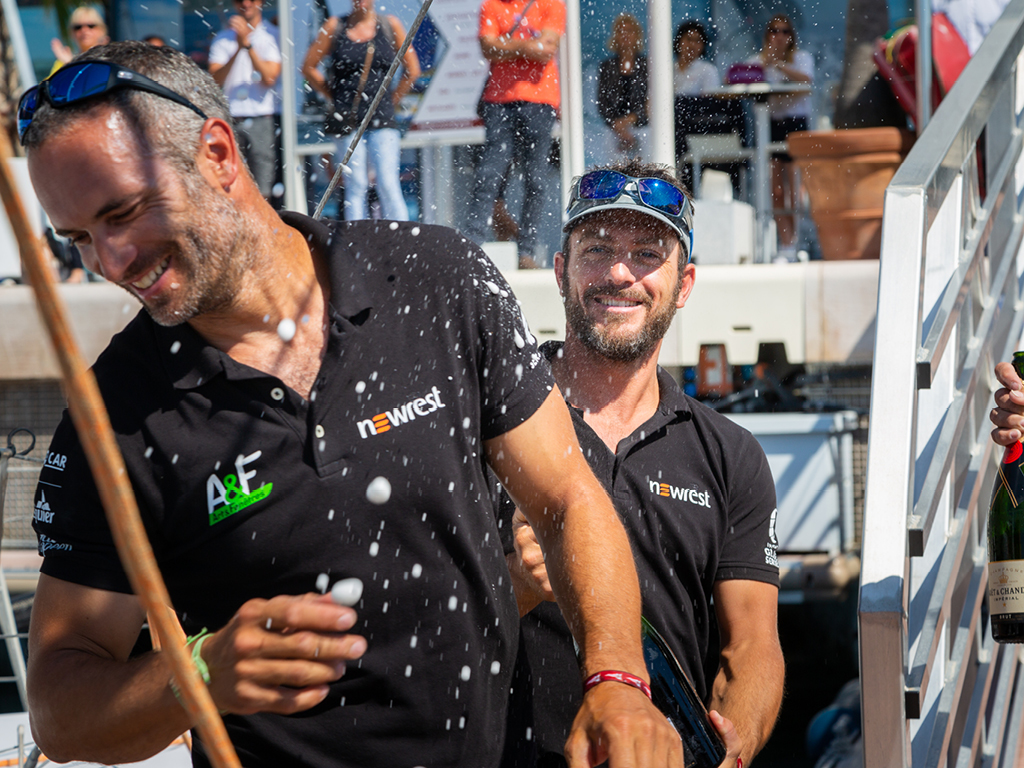 By taking part in the first Monaco Globe Series, Fabrice Amedeo's objectives were clear. The sailor just qualified for the Route du Rhum – Destination Guadeloupe wanted to continue taking control of his new boat and go for the performance with Eric Péron. Arriving this morning in Monaco, after a very demanding route between the Strait of Bonifacio, Sardinia and the island of Bagaud (Porquerolles), the smiles of the duo said a lot about what the two browsers had just shared: "We are tired but happy, so let the skipper of Newrest – Art & Fenêtres. If we had been told that we would finish third behind Paul Meilhat / Gwenolé Gahinet and Isabelle Joschke / Alain Gautier before the start, we would have signed right away. We may be a little disappointed because second place was close to us. But upwind, in 5 knots of wind and without drift, it is not necessarily very easy to compete with boats like SMA and Monin. What we mostly remember is that we have been in the match from start to finish and we finish first foilers." A legitimate satisfaction for the two sailors who had immediately settled in the leading car at the start of Monaco and who even had a time taken the leadership of the fleet. A nice performance as we know that this great race will have often taken the shape of Russian roulette because of weather conditions very capricious and so characteristic that the Mediterranean Sea. A spicy cocktail and a beautiful race moment summarized by Eric Péron: "It was a great race, very intense, very demanding, with many twists and turns, full of turnarounds. It allowed us to confront each other, which is essential to know if we are in truth. We missed a bit of success on the end, but I will especially remember our beautiful agreement. Fabrice begins to really master this new boat and even if we have identified a point or two to improve, it is perfectly ready for the future." With this third place on the Monaco Globe Series, Fabrice Amedeo has just taken another step on the road to his big meeting of the season, the Route du Rhum – Destination Guadeloupe. "This event came at a very good time in my preparation for the Rhum, he confirms. It allowed me to take even more confidence on board but also to pinpoint the few points to improve by November. The result of this race is extremely positive." Now it is time to rest before heading for a busy season…
Newrest Art & Fenêtres is at 60 miles South from Port Cros (Wednesday, June 6th, 2018)
We are approaching the French coast (Wednesday, June 6th, 2018)
"It' a bit of a lottery!" (Tuesday, June 5th, 2018)
After 48 hours of racing Fabrice Amedeo and Eric Peron continue their Mediterranean progression at the forefront of the fleet. About ten miles from the leader SMA (Paul Meilhat and Gwenolé Gahinet), the duo Newrest – Art & Fenêtres plays in a handkerchief with Monin (Isabelle Joschke and Alain Gautier) and Kilcullen Team Ireland (Joan Mulloy and Thomas Ruyant). This morning, the Monaco Globe Series Race Direction made a change of course, no longer requiring competitors to sail to Sicily, reducing the route to 700 miles. A change that takes nothing suspense that should last until the arrival in Monaco as announced by Fabrice by phone on Tuesday afternoon.
"The weather situation is very complicated with windy moments and moments of calm, confirmed the skipper of Newrest – Art & Fenêtres with a touch of fatigue in his voice. It's a bit of a lottery and a good war of nerves! I was able to take a first nap of an hour this morning, the first consequent since the departure. We are tired but happy with our start of the race. We are fighting well with our competitors and the deal on board is excellent. We realize that a lot of things can happen here on arrival.
We passed the door of Cagliari this morning and we are now going to Porquerolles and Bagaud Island that we must leave to starboard. Then we will head to Monaco for an expected arrival in the morning of Thursday. The return does not look simple … "
A beautiful sunset aboard Newrest – Art & Windows (Monday, June 4th, 2018)