Green Superheroes contest 2022 : discover our 2 winning CSR projects
The annual CSR contest has taken place from April to June 2022. On June 13th, all Newrest's team have voted for the best project.
A strong CSR commitment 
This competition is for all our employees who have implemented concrete CSR projects that reduce the environmental impact of our activities and/or have positive social impact.
The objectives of the contest were to promote the various CSR actions implemented throughout the group and to highlight team's efforts, motivation, proactivity and creativity.
Through this contest, all Newrest's collaborators felt implicated into the CSR actions, by choosing their Green superheroes !
And the winners are… Nigeria and Algeria!
This year, 26 projects have been in competition, with actions from 16 countries. The 2 winning projects will be considered as reference CSR projects at group level and will be highlighted on the group internal communication's support.
All collaborators had the possibility to vote for their favorite project. Furthermore, a jury has been composed with CSR and QHSE members, remote VP or even HR managers. This jury has received 10 pre-selected projects for a presentation, in order to decide which one is going to represent Newrest CSR's ambitions.
Our 2 winning projects of the 2022 CSR contest are "Virtuous circle" & "Zero Waste and Value-added biofarm"
The jury's prize is awarded to the project from Algeria : « Virtuous circle ».
The aim of the project was to recover organic waste, compost it and turn it into natural fertilizer used by an organic farm and serve vegetables from this farm to the guests.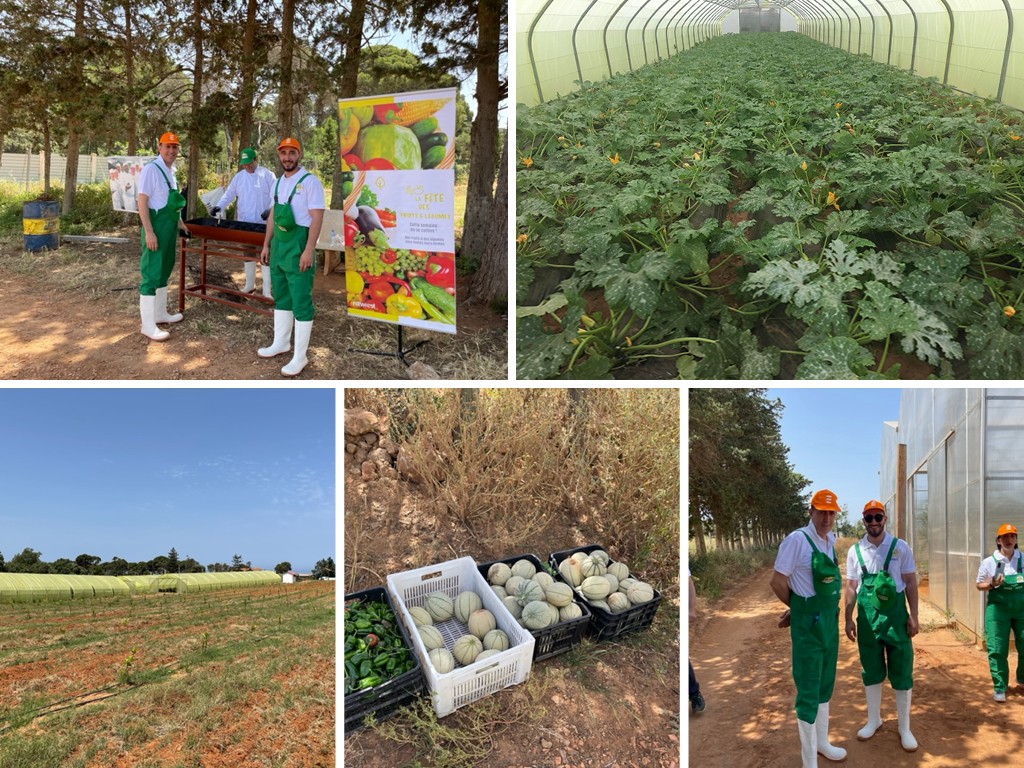 The team's prize went to the Nigerian project « Zero Waste and Value-added biofarm ». Thanks to their newly installed biodigester, food waste is converted to manure that is used to grow vegetables in Newrest's bio farm which produces fresh organic fruits and vegetables to supply our guests and reduce the import of such products. On top of that, they implemented recyclable waste sorting and recycling for all inhouse waste (paper, plastic, can, etc).

A great implication from the teams around the world
Below, you can find the list of 2022 short-listed projects.
Project – Gabon – "Gamba Local suppliers development" program
Operating from Yenzi camp for a client from the Oil industry, Newrest created a local supply chain starting from the needs of fresh produces and identifying local growers and suppliers that would supply such needs through out the direction of contracts.
Project – Mexico – Collaboration with associations
Donations to families with low incomes from the continental area of "Isla Mujeres". These donations are given to adults, young people and children.
Project – Qatar – Chicken Skin Reuse
Transformation of unused chicken' skin into chicken snacks
Project – Costa Rica – Sustainable link
Their efforts aim at reducing the environmental impacts of our operations.
– 66% of waste reused
– plastic caps and batteries recovered
– 100% organic waste is transformed into compost, which is used for Newrest's vegetable garden, maintained by volunteers, and whose products are donated to social aid organizations.
– installation of beehives who contribute to the pollination and help Newrest raise awareness of the great importance of bees contribution to our world.
Project – Costa Rica – Beach clean-up project
A beach clean-up organized with environmental association to sensitize Newrest team members toward the reduction of plastic consumption.
Project – Greece – A success story  « Fighting plastic pollution in Newrest Greece: one cup at a time! »
Motivated by the Newrest CSR Chart highlighting the problem of plastic pollution, they decided to equip their B&I restaurant units with non-plastic multi-use products for sale, at very friendly prices.
Project – France – Waste sorting, here we come !
This project aims at reducing food waste, decreasing ordered quantities (identification of products that are regularly thrown away and reduction of their quantities) and recycling biowaste (biowaste sorting for Eurostar and thalys returned trolleys and then, transformation into compost via the collaboration with "Les Alchimistes"). Waste sorting is also implemented for cardboards, glass and paper.
Project  – France – Recycling of unsold goods from a Central kitchen
Sell unsold goods at a lower price via a digital app (Too Good To go) used by people from all social backgrounds to reduce food waste.
Reduction of central kitchen biowaste and of the waste collections by the waste management contractor.
Thanks to all Newrest's collaborators for their participation. For the other, see you next year​ and don't forget to BE THE CHANGE.
FOR MORE INFORMATION: