Newrest benefits from the airlines' restart in its inflight catering activity
Last weeks, Newrest announced the resumption of its inflight catering activity in several countries such as Greece, France, Peru, Belgium, and the United States. While the start-up is acted in the airline industry, Newrest teams are back on track in Canada, Mexico, and Costa Rica.
Newrest teams in Costa Rica restart its operations in the Juan Santamaría International Airport and the Daniel Oduber Quirós International Airport
Newrest restarts its inflight catering operations in San José (SJO) and Liberia (LIR) with United Airlines. On the 15th of June, the airline's activity restarted with 7 flights per day from San José and 6 flights per week from Liberia to destinations such as Houston, Chicago, San Francisco, Los Angeles, Newark and Denver.
Newrest teams provide breakfast or lunch/dinner for business class and crew according to the departure time. Newrest's catering fits with actual consumers' expectations, offering a vegetarian option on its menu. Passengers and crews have the choice in between hot dishes and snacks, depending on the flight time. Economy class passengers are provided with an all-in-one bag which is double provisioned from the US.
Newrest's inflight catering activities resume with 3 airlines in Mexico
Newrest restarts its operations with Wamos Air and the Russian airlines Azur Air and Nordwind Airlines in Cancun.
Newrest is offering catering service to Azur Air and Nordwind, flying from Cancun to Moscow Sheremetyevo and Moscow Vnukovo. 2 flights per week for Azur air and 1 flight each ten days for Nordwind are actually running. Both companies are operating with a Boeing 777. Newrest serves two hot meals services for Business class and one hot meal service for Economy class.
Newrest is partnering with Azur Air in Cancun since 2017, and with Nordwind Airlines since 2015. Teams are glad to maintain this relationship of trust with these airlines.
In the occasion of the restart of the operations with Wamos Air, Newrest is pleased to announce the business consolidation with the company for two more years. It is added to an already long-term relationship of 12 years. Since the 20th of June, Wamos has been operating a bi-weekly flight with an A330-300 from Cancun to Madrid. Newrest provides 2 services to passengers from economy class– hot meals and cold breakfast.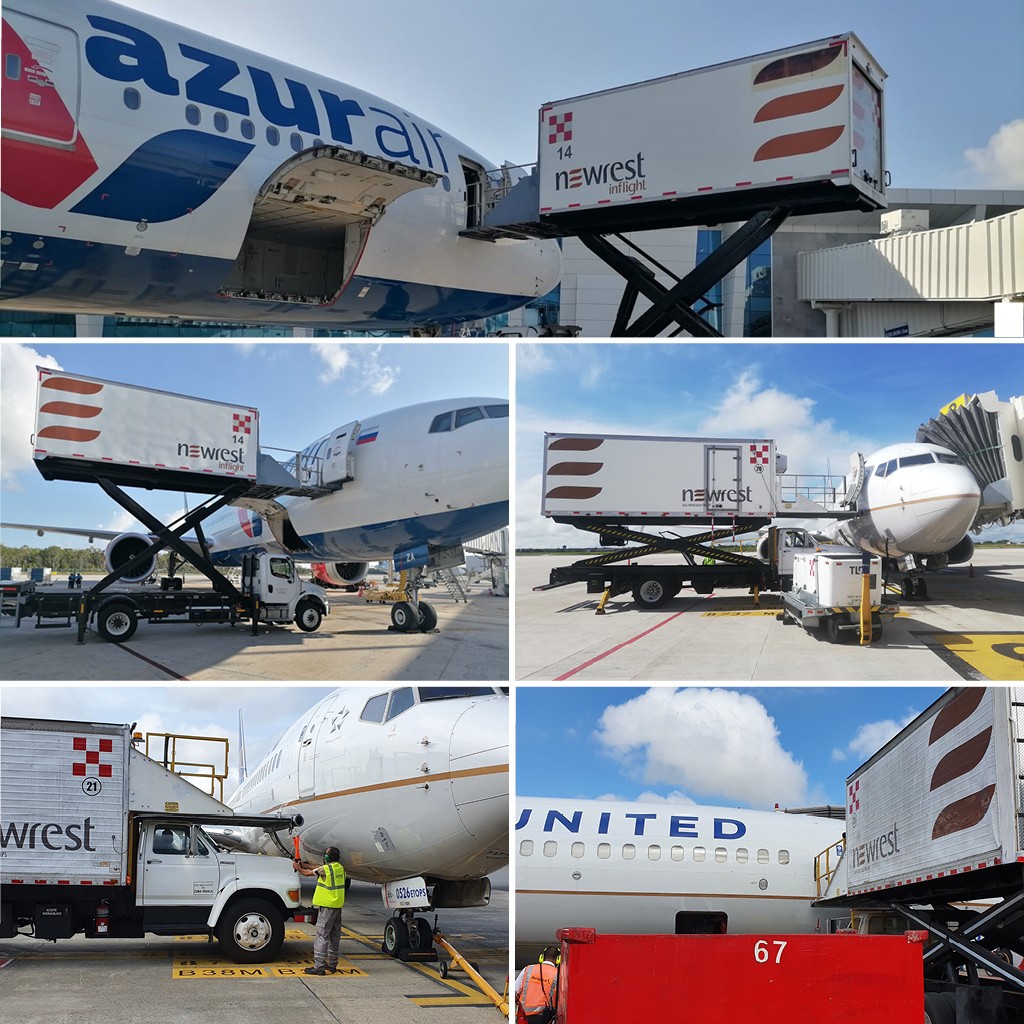 Newrest accompanies Air Canada on its new route from Montreal to Cairo, Egypt
Newrest teams in Dorval, the Canadian national airline's hub in Montreal, are thrilled to serve the first route linking Montreal to Cairo since June 17.
As of this date, an additional gateway to Africa from Trudeau Airport has been created to serve the large Egyptian community in Montreal and throughout North America. This new destination is in addition to the 40 daily flights already served by Newrest's collaborators in Dorval on behalf of Air Canada.
Newrest offers services to Cairo three times a week on a 255-seat Boeing 787-8 Dreamliner with a choice of three cabins: Air Canada Signature Class, Premium Economy and Economy Class. Hot dinner and breakfast are provided to passengers and 12 crew members. After the re-launch of the Montreal to Athens and Montreal to Casablanca routes in June, Newrest in Dorval continues its Air Canada partnership with more flights to international airports to come in the next few months.

FOR MORE INFORMATION: