Newrest brings its employees around the One Team, Unlimited Challenge!
The group gathers its employees from all over the world around sport challenges.
The values of sport
The aim is to gather the different units of the group around sport's challenges, to strengthen team cohesion, team spirit and determination.
It is also an opportunity for Newrest to highlight its CSR commitments and the diversity of different countries and cultures.
Several challenges have been completed by Newrest teams
Newrest Oman teams started with the Muscat Marathon, a 10km race. Then, the Toulouse team in France has participated in "La course des Lumières", also a 10km race, to raise funds to fight against cancer.
In Tahiti, the team discovered the buried treasures of the island during an amazing speleological walk. Newrest Spain has participated in the "Carrera de las empresas" in Madrid, organised by KLM, in December 2022.
5000Km further on, in Nigeria, the team enjoyed a moment of conviviality during a football tournament.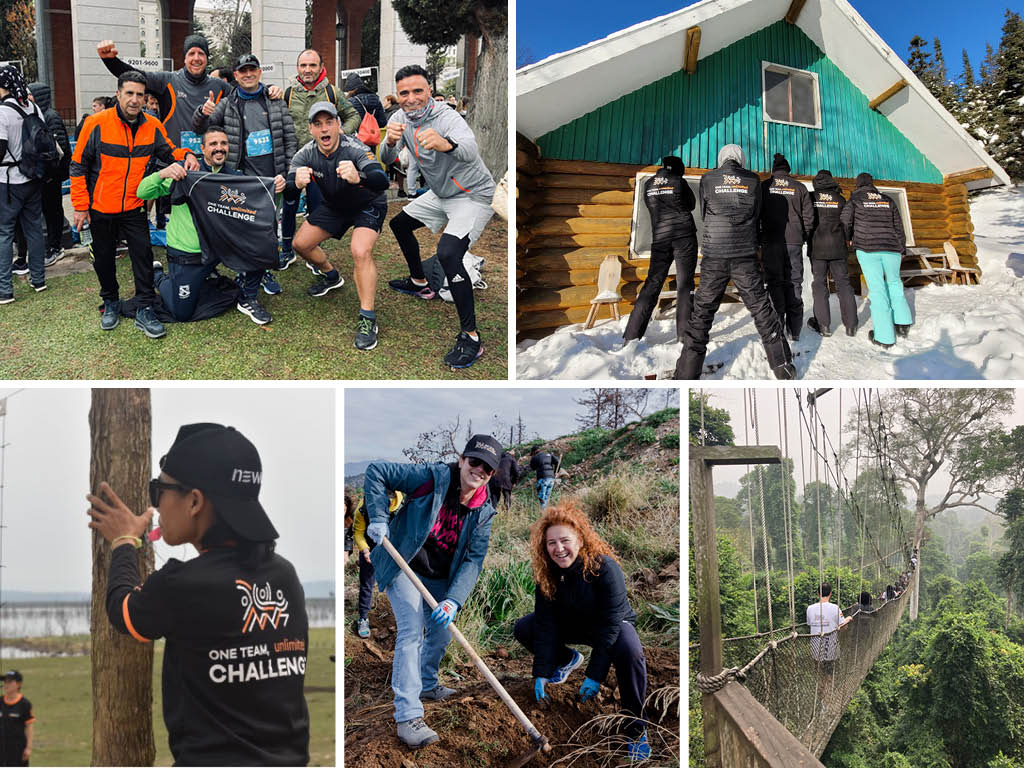 With freezing temperatures, the Canadian team had the opportunity to practice sled dog trekking. A 5-days trip to strengthen cohesion. Newrest Peru went on a journey of more than 2900km starting from Lima and visiting all Newrest's units on the Peruvian coast. To do so, they could use all rides, as long as there was no engine: foot, bikes, skateboard…
As part of the group's CSR commitments, 80 employees in Greece have participated in the reforestation of Mount Ymittos in Athens, but first they had to climb the mount ! Meanwhile, on Reunion Island, the beauty of the island was highlighted during a hike in Mafate.
The Ghanaian team discovered the Kakum National Forest and crossed a 300 meters long footbridge to admire the biodiversity of their country.
In New Caledonia, the Newrest team spent a sporty day with several activities such as volleyball tournament and obsatcles race. Recently, the Laos team have played a volleyball tournament and collected waste on Nakai beach.
Collaborators of Newrest Paris took part in the Bulky Games with a 5km race with inflatable obstacles.

More challenges to come!
We will soon see teams from Mexico, Chile, Bolivia and Croatia in action!
Congratulations again to all Newrest teams for their tenacity and determination. They are living the values of the One Team Unlimited Challenge.
The Group is Unlimited!
For more informations :