Newrest celebrates 3 years of catering services with Al Boraq train in Morocco
Since November 15, 2018, Newrest's teams in Morocco have been providing on-board catering to the first Moroccan high-speed train. The Al Boraq line inaugurated by King Mohammed VI in the presence of Emmanuel Macron connects Tangier to Casablanca in 2 hours 10 minutes, instead of 4 hours 45 minutes previously.
The Newrest Group provides on-board catering services to Al Boraq, the first high-speed line in Africa
Each season, Newrest collaborates with the Office Nationale des Chemins de Fers (ONCF) to offer a new catering menu to Al Boraq passengers.
The catering offer is labeled "Chhiwat mama" since June 2021. It satisfies both meal breaks with a wide choice of hot and cold sandwiches and snacks with a range of salty and sweet snacks. Not to mention the selection of hot drinks and Illy coffee.
The "Chhiwat mama" menu: the family cuisine know-how
This on-board catering menu embodies the taste of the Mama's cuisine, feeling like home with fresh and seasonal products.
The new menu is fully in line with current food trends: on a trip, as at home, Al Boraq cafeteria customers will always find seasonal, balanced recipes and a vegetarian alternative. For example, the batbout sandwich, falafels.
Al Boraq's on-board catering offers a varied range of gourmet recipes with Moroccan flavors, freshly prepared every day. Newrest is careful to choose the best products and rely on natural ingredients such as citrus fruits, aromatic herbs, and spices to make healthy and tasty recipes.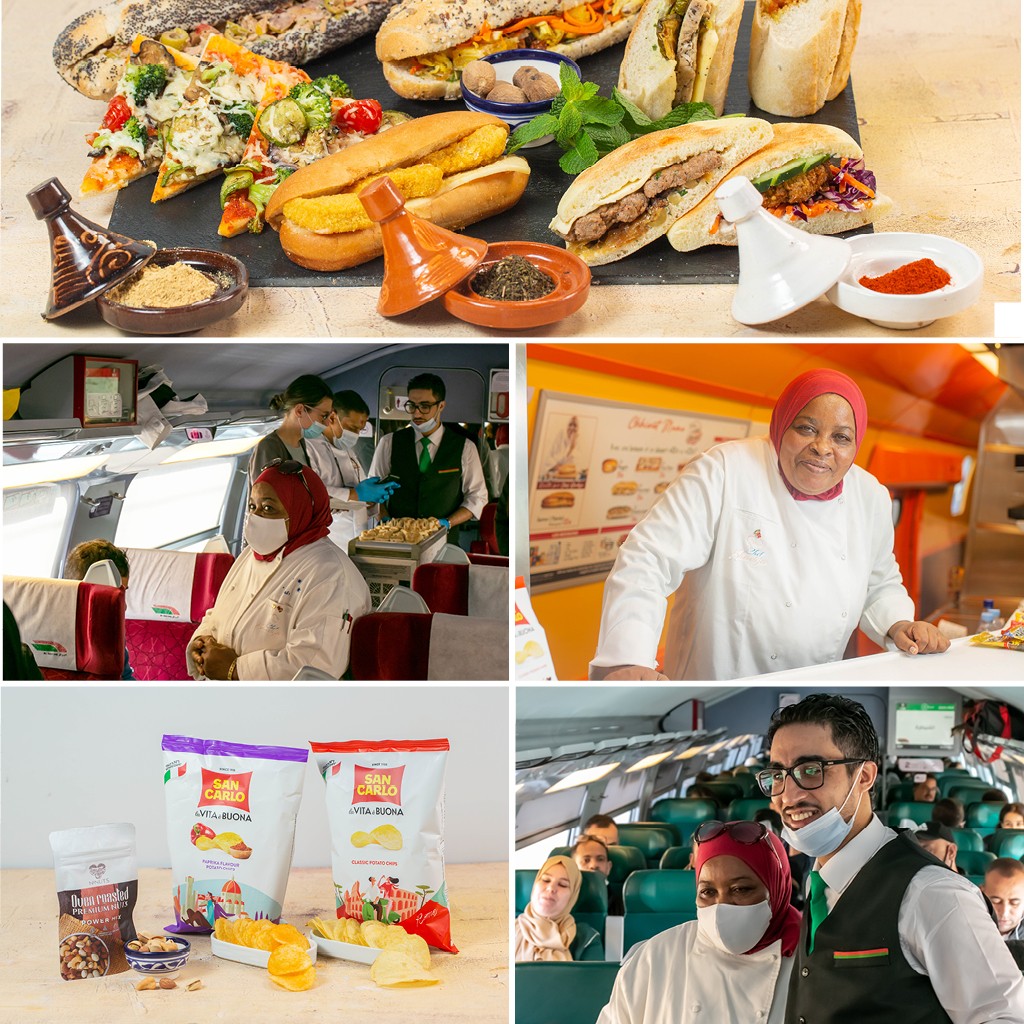 Newrest and ONCF organize a tasting on board Al Boraq to celebrate the train's 3rd anniversary
On the 3rd anniversary of Al Boraq on November 15, 2021, Newrest Morocco and ONCF organized a new on-board menu tasting. It was the opportunity to present to passengers the "Chhiwat mama" menu's new recipes.
This animation took place with Chef Khadija, Jury of the Master Chef Morocco cooking contest and Ambassador of Moroccan Cuisine abroad. Chef Khadija is passionate about traditional Moroccan cuisine and is currently the muse of the "Chhiwat mama" menu. Each season, the Chef elaborates an exclusive recipe created for Al Boraq travelers.
Hosted by Chef Khadija and Newrest chefs, the on-board tasting was a moment of exchange, sharing and conviviality. It is the image of Newrest Chefs' cuisine.
FOR MORE INFORMATION: