Newrest intends to accompany the mythical trans europ express' revival
Newrest, a French specialist in out-of-home catering with 1 million meals served every day in 58 countries, is a major player in passenger and train services through its subsidiary Newrest Wagons-Lits.
The day after the French, German, Austrian and Swiss rail carriers (SNCF, DB, OBB and SBB) announced  the development of new long-distance cross-border night train connections, Newrest has the ambition to showcase its historical night train management know-how.
In 2010, Newrest Group expanded its out-of-home catering business in the railway sector following the acquisition of the Compagnie des Wagons-Lits from Accor Group. Since then, Newrest has accompanied OBB in Austria, the heart of Europe's night rail network on its 19-night lines.
Newrest crews primarily provide train services. It is a very technical know-how that is put to use. More than 18 months of training are required to become Newrest train leader and to be able to perform tasks that will ensure the safety and security of the trains throughout the journey: brake control, connection of trains, loading and unloading of trains.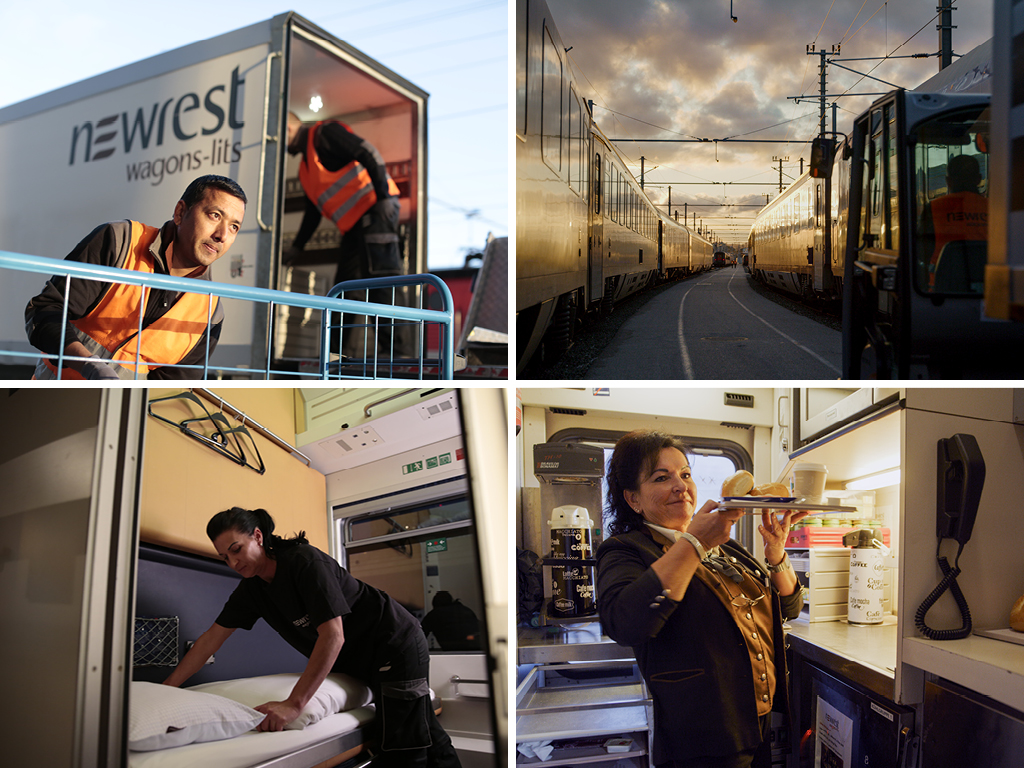 But it is mainly in the context of passenger services that Newrest has established itself as a world leader in catering on high-speed trains. Since the signing of the contract with SNCF in 2013 covering all TGVs in France, Newrest Wagons -Lits has been innovating with the ambition of providing a real experience on board. This is how great Michelin-starred chefs have signed dishes within the menu of the Bar TGV. The deployment of an e-commerce solution to make pre-order or at seat order, is one of the salient technological innovations developed by Newrest.
Protecting the planet is at the heart of the Newrest Group's CSR charter and expresses itself in its choices in its rail business in order to limit waste, move toward zero plastic and significantly reduce paper use through a significant digitization of its operational processes.
Newrest is present in a large part of the European territories involved in the ambitious project to revive the mythical Trans Europ Express (TEE) and has already worked directly or indirectly with all the rail carriers concerned. Newrest group also accompanies Alléo (SNCF-DB) trains, Serco Caledonian Sleeper trains in the UK and night trains in Portugal as part of the partnership between RENFE (Spain) and Comboios de Portugal.
FOR MORE INFORMATION:
Founded in 1996 as Catair, Newrest Group, chaired by Olivier Sadran and Jonathan Stent-Torriani, is now the only operator to operate in all catering and related service sectors: inflight catering, buy-on-board, duty free on board, catering, remote sites services, rail catering, airport catering concessions and motorways.
With 29,500 employees in 58 countries, Newrest Group, with a managed turnover of 1,365 billion euros in 2020, is also the world's leading independent player in inflight catering.
Newrest is committed to a process of continuous improvement and innovation in the services offered to its customers, as well as in the well-being and progression of its employees and managers. The sustainable development of the company and the respect of social and environmental values are at the heart of its activities.