Newrest participates in 6 new international takeovers in the airline sector
The expert in the provision of inflight catering and logistics services continues to celebrate the resumption of airlines. Gladly, it is synonymous with the resumption of activity for Newrest teams. Much good news is coming from Europe and Latin America, following successes announced in recent weeks by the caterer on its services to the airline industry.
Multiple flight takeovers from Nice accelerate the recovery of Newrest's airline catering activities in France
On 28th and 29th of June, Air France resumed its services from Nice for flights to Athens (3 flights per week) and Tunis (2 flights per week). On board, Newrest provides sandwiches and pastries depending on the time of departure. The Air France crew benefits from Newrest catering services as well. Air France and Newrest have worked together for many years. Teams are glad this trust continues with this restart.
In parallel, the Group is finally restarting its inflight catering operations with La Compagnie. On July 3rd, 2021, the airline's activity restarted from Nice with 2 flights per week to Newark in A321. Newrest's teams provide hot meals and hot or cold snacks for the business class and the crews. Newrest strives to always meet the expectations of its customers. To meet its commitment, the Group currently provides a signature menu developed by the Tourteaux chefs of the Flaveur restaurant in Nice.
Since July 9th, Delta has resumed its services for the summer season with 3 flights per week from Nice. On board a B767, Newrest serves inflight catering services for Economy, Premium, Delta Premium Select and Business class. The service includes a hot meal and a snack service. The Delta crew also benefits from Newrest's inflight catering services on its Nice- New York JFK route.
The resumption of catering activities in Nice is duplicated in Lyon
Emirates is not only restarting its activities in Nice, but also in Lyon. On the 2nd of July, the airline resumed its services from Nice with 4 weekly flights to Dubai. On the 9th of July, Lyon was added to the list with 3 weekly flights. These B777s, Newrest teams provide hot meals, breakfasts and cold snacks for business class, economy class and crew. On board of the first flight, all the Newrest teams as well as the crews were delighted to be back in service.
Despite the complicated months for the airline industry, the Newrest unit in Lyon was pleased to be able to start a new collaboration with the airline Corsair whose inaugural flight to Reunion Island was on June 21st. On board the 2 weekly flights in Airbus A330-900 NEO, Newrest provides hot meals and breakfasts for the three classes of this aircraft.
Iberojet extends its trans-oceanic flights from Madrid to Costa Rica
This Tuesday, July 13, Iberojet made its first flight on its Madrid-San José-Madrid route. The Group had the privilege of being part of this journey by providing catering for the pilots, flight attendants, as well as for the passengers in economy and premium class. This new route for Iberojet takes place twice a week, on Tuesdays and Saturdays, and is operated with an A350 with a capacity of 423 passengers on board.
This is the first time in two years that Iberojet has opened a new route for its operations. This new initiative is part of the company's operations expansion in the Caribbean, especially to destinations with a positive impact on nature and the environment.
With this new destination, the airline's catering service to San José is added to the existing Lisbon and Madrid services for Iberojet.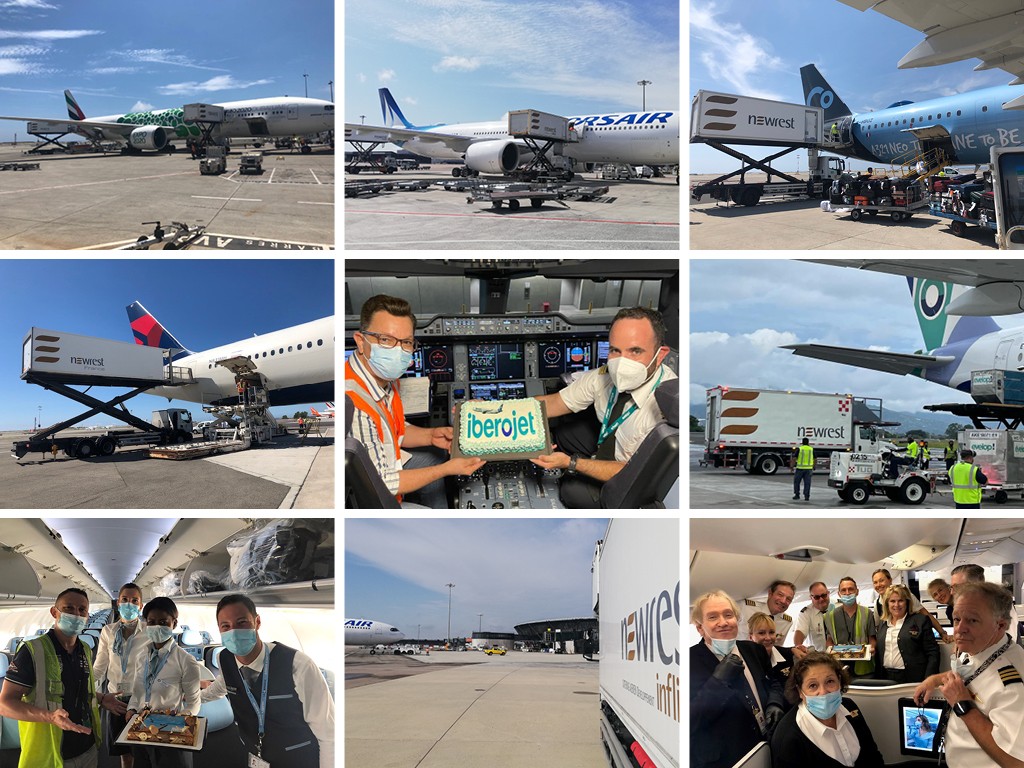 FOR MORE INFORMATION: