Newrest school restaurants awaken students to food balance
The meal is a special moment of learning, whether it takes place with the family or at school. Our balanced menus help students develop healthy eating habits. The ability to appreciate different flavours, to differentiate them and to talk about one's sensations is learned and cultivated. We play an important role in awakening to taste.
Convinced that the initiation of healthy and balanced nutrition must be done from an early age, we develop awareness programs in the schools we serve around the world.
To this end, our Eduka pack, a set of media suitable for each age group, talks about important topics and spreads awareness messages, especially on the theme of Health and Nutrition.
Building specific menus with dieticians
All our countries have dietitians to build balanced menus that ensure respect for the food balance and nutritional needs of children. In Morocco or in Spain for instance, in addition to the nutritional aspect and in a quality approach, we also seek to promote local agriculture, to enhance the terroir and know-how of the regions as well as to guarantee the safety and availability of food.
In partnership with the professors of the American School of Antananarivo, our teams at Newrest Madagascar have developed a menu of tasty and healthy snacks to raise awareness among students and staff about food balance. On the menu, avocado egg spreads, beet chips, roasted fruit with cinnamon and many other delicious dishes.
In France, our nutrition experts regularly intervene in "health forums" organized by the sites, where several health professionals are invited: psychologist, cardiologist, tobacco specialist, sports specialist. These multidisciplinary interventions allow us to approach diet as an essential, but not unique, element of good health and to take into account many expertise.
In Spain, each beginning of the school year, the Dietetics Department is committed to holding an information conference for the parents of the students. This informs them of the characteristics of the menus that will be offered to students during the year, as well as gives them some dietary and nutritional advice of a general nature.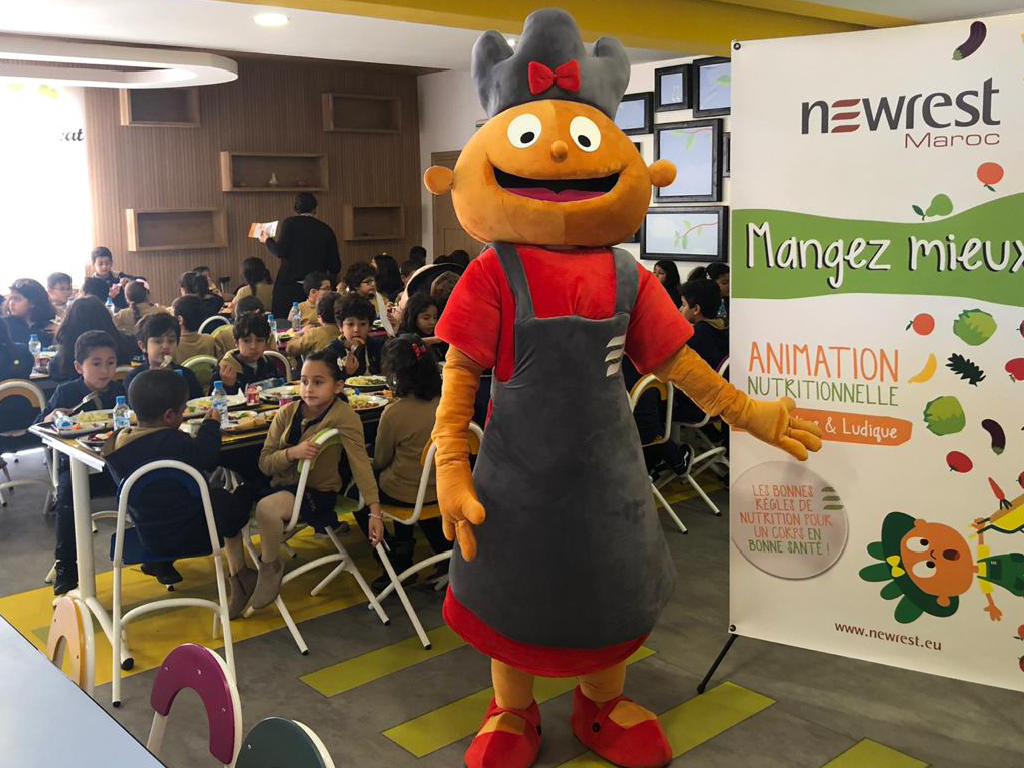 Awareness in classroom
This awareness, adapted to different ages in order to share the best knowledge and nutritional information, is very often carried out in the classrooms, especially in Morocco. These actions are part of a quality approach and aim to ensure a healthy and balanced diet essential to maintaining good health for your children, and to raise awareness and inform your children about the key concepts of nutrition.
In Gabon and French Polynesia, during this awareness, we offer workshops and sessions of playful work with students on different topics around nutrition-health. We awaken them to food balance, to food sensations and tastes through blind tastings for instance.
This blind tasting has aroused the curiosity of our experts in France. Thus, at the beginning of 2021, a mind-conscious tasting and a work on food sensations will be carried out by the students. Based on well-being and respect for individual needs, this animation will see the use of the five senses and the identification of food sensations such as hunger or satiety. 
 Week of Taste
Many of our countries rely on Taste Week to raise awareness among children. In Gabon last year, we offered fresh fruit juice stalls and fruit-flavoured water stalls to educate students to drink water throughout the day and to focus on water over sodas and carton of fruit juices. This action continued in our premises, where we had welcomed the students for educational workshops around water and minerals present in water, spices and flavors.
In Oman, on an open day, parents of students visit the kitchen and are made aware of food balance during a meal in the school restaurant.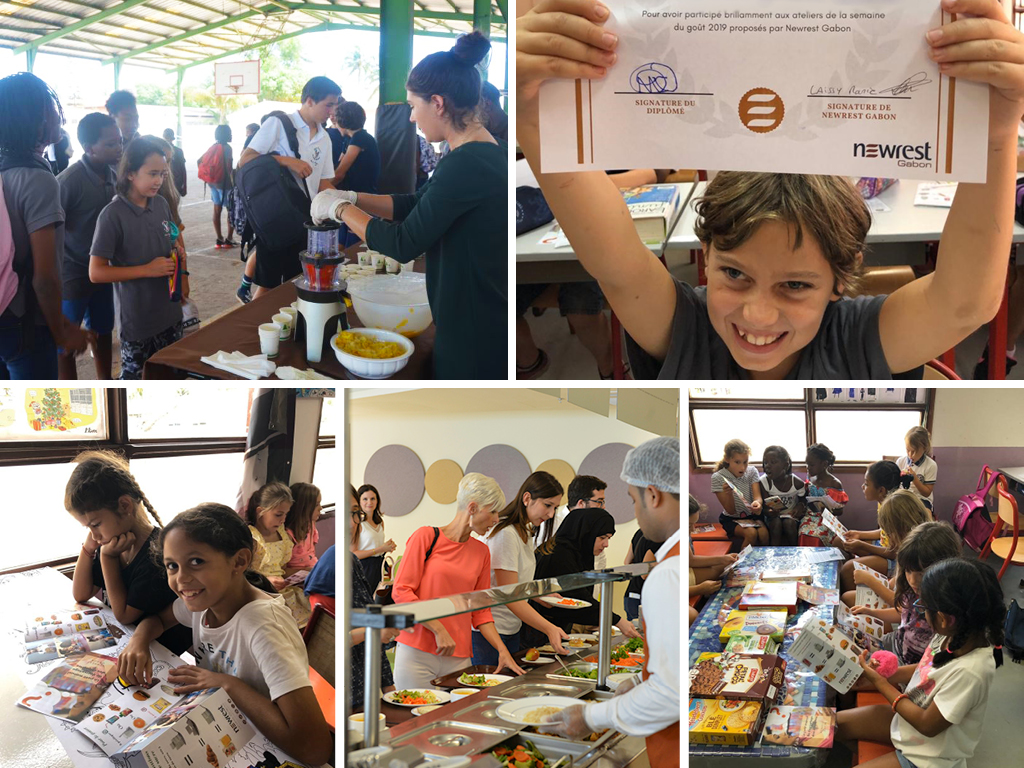 Activities & workshops at school
In France, we regularly work on the construction of a balanced breakfast, its role, its importance in order to achieve a good food balance. Afterwards, a breakfast is organized at the school restaurant, with local produce. Sometimes even producers travel to present their products. Again, the mascot Madeleine sometimes makes an appearance for the little ones.
This year, our teams in Tunisia have made children aware of food balance through the monthly activities of the PURE program, supported by the intervention of mascots Madeleine, Marcel and Linda. We also organize events of workshops discovered cheeses, breads and spices, or market products. These events also help educate children about the seasonality of the products.
A chocolate animation, made in France, caught all our attention, and our appetite!  Thus, we present to the students the origin and stages of chocolate making. They have real pods in their hands, cocoa butter, cocoa beans, cocoa grating. We then do a tasting of different types of chocolates, with reflection on tastes and flavors. To prolong their gluttony, we give them a simple recipe of sand roses to make at home in order to share with their parents their discoveries of the day.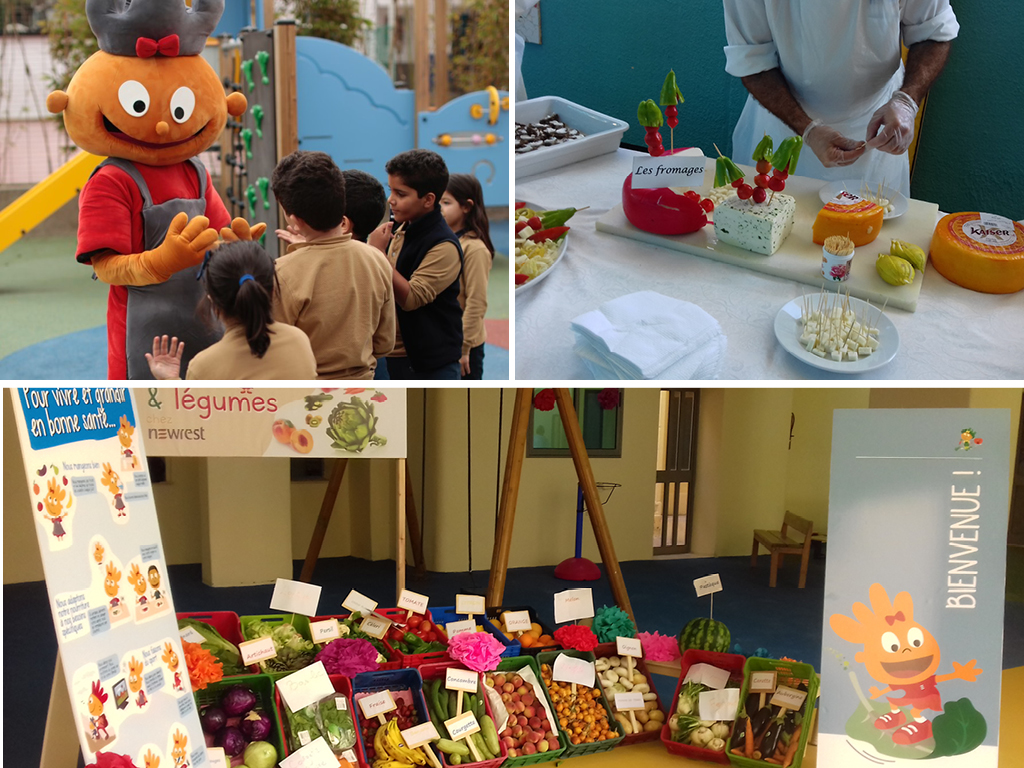 Short circuit awareness
Awareness of local products and the seasonality of products is paramount. In New Caledonia, under the initiative of the Newrest teams, a discovery of local products was made at our winery-producers to perfect the learning of students. By the end of the year, they will have to propose a balanced menu made from these products, to take into account our supply constraints.
For 2021, in partnership with the Women Farmers' Cooperative in Manouba, Newrest Tunisia is focusing nutritional awareness on short circuits. This culinary program will enlighten children with the properties of wheat and its derivatives.

FOR MORE INFORMATION: