Airlines praise Newrest's inflight expertise
Newrest is a historical player in catering service to airlines and provides logistics solutions associated with it. In the space of 15 years, the group has acquired undeniable experience in managing "hubs" for the benefit of leading airlines such as Delta Airlines, British Airways, Aegean, Air Canada and more recently United Airlines and Scandinavian Airlines.
A "hub" is an airport chosen by an airline as the point of departure and arrival of its aircraft. The aircraft and crews are based within these airport infrastructures.
In 2006, the group signed a major contract with the main Greek airline Aegean. Today, more than 180 flights are served every day by our teams in the airline's three main hubs in Athens, Thessaloniki and Larnaka in Cyprus.
Olivier Sadran, co-president of Newrest group: "In order to improve its productivity and provide solutions to its customers, Newrest innovates creation of cobot line (participatory robot) to mount the trays, development of an internal operational management system, creation of interfaces with customer information systems".
But the most striking innovation is contractual. In 2018, the group developed a new kind of contract with Delta Airlines and signed its entry into the United States of America. The foundations of this new type of partnership are financial transparency and operational excellence. Adjusting the resources mobilized according to the airline activity is a necessity within the main hubs of our clients to maintain optimal customer satisfaction.
At Raleigh-Durham Airport, Newrest structured this approach with a volume of forty flights per day. Two months later, in July 2018, Delta Airlines' second hub in Salt Lake City was launched with 250 flights per day. This ramp-up made it possible to adjust the final details of this innovative offer that will quickly convince other leading airlines.
As of November 2018, Air Canada handed over its hub in Montreal to Newrest with 170 flights per day. A year later, British Airways applied the same partnership in Gatwick for its seventy-five daily flights. Still on behalf of the IAG group, Newrest mobilized Vueling's hub in Barcelona in April 2020 with more than fifty flights per day.
A major step was reached in 2021 with the mobilization, a few months apart, of two hubs with more than four hundred flights per day each: Atlanta for Delta Airlines and Houston for United Airlines. To be able to manage such a large number of flights per day, the group has conducted numerous IT integrations so that information systems communicate continuously and automatically.
The human factor remains the key to the success of this new contractual adventure. Thanks to the collective experience acquired over 15 years and the mobilization capacity that characterizes the group, more than 3,000 employees were trained in hub management methods.
Olivier Laurac, COO Europe and Americas: "This know-how was fully expressed in 2022 during the mobilization of Scandinavian Airlines' three hubs. In Oslo, Stockholm and Copenhagen, more than three hundred employees were recruited and trained in the space of three months to serve up to three hundred flights per day."
The latest innovation deployed in Scandinavia and adapted to hubs is the creation of assembly lines that integrate our teams with tasks performed by robots. The group's ambition is to achieve a sufficient level of productivity to be able to integrate this technology into its logistics contracts in the low-cost and rail sectors.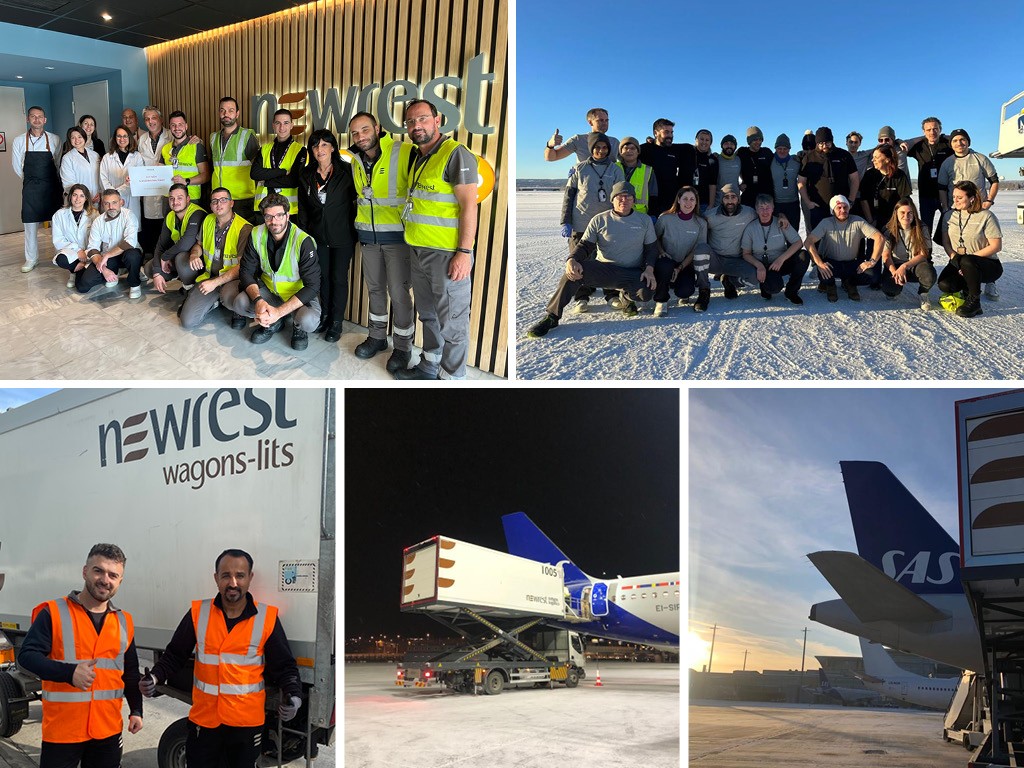 FOR MORE INFORMATION: