How Newrest manages safety on ramp through concrete actions?
The group is putting safety at the top list of its priorities to protect its people, passengers, and crews.
Safety first
In Newrest group, the safety culture has become the priority of actions. Thanks to the teams mobilized, the group is minimizing the risk and maximizing the safety. The 3 key words that they handover in training sessions are: people, partnership, and purpose.
Aircraft damages are one of the biggest threats that the group is facing. The aim of having people fully trained is to make sure they work safely and don't cause any accident, and report any incident to protect ramp workers, passengers and crew members flying the aircraft. Newrest has even set-up a campaign to encourage people to have the right behavior "See, Stop, Say : I see something, I make it stop, I say something to a superior."
New drivers, a constant training
Newrest group is working step by step with new drivers to prepare them in the best way possible. First, the safety team is setting up a basic training. It is a mix of classroom and practical training, to make sure that the driver understands all the expectations and the scope of its job and to let him to work with the equipment and its future environment. Then, after a first evaluation, there is minimum 2 weeks of qualification training. It is a full mentoring session with a Safety trainer for the new driver, to make sure the person is ready and enough trained to respect all safety non-Negotiables rules. At the end, the driver receives a certification, given only by the Ramp Safety Department, if they judge him ready to operate.
The safety team is here to make sure the collaborators have the understanding, the skills, and the awareness of how to cater an aircraft safely and efficiently.
Ramp safety coordinators and officers: Key roles
They've been nick-named Marshall, Safety police or Ramp Cops: their role is to protect people and prevent risk.
As a Sheriff can do in the city he's running, they are hired to work with collaborators and not against them. They help the team successfully, safely, and efficiently to do their job, regarding the respect of non-Negotiables rules.
Nowadays we count around 70 safety roles (Ramp Safety Manager, Ramp Safety Supervisor, Ramp Safety Officer/Coordinator), in 20 different countries. Newrest innovates developing these new roles as it is a world's first in the catering industry.
Collin Campbell is the Director of safety and training for Newrest USA, he is talking about the scope of its work and the importance of safety.
Click on the picture below to watch the full interview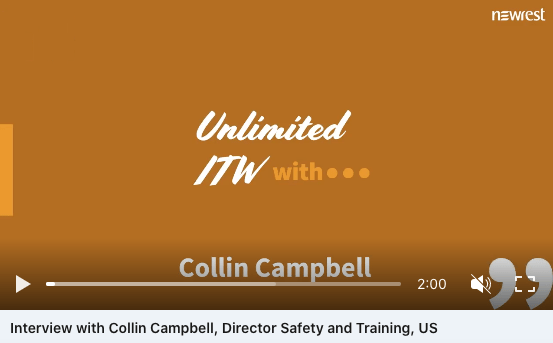 FOR MORE INFORMATION: