In Greece, innovation grows on the catering activities in B&I sector
From its vision focusing on innovation, Newrest continues to bring development among its countries : in Greece, B&I clients can benefit from several new concepts. Since the 10th of May, Greek catering sites have enjoyed the Modified Atmosphere Package meals (MAP Meals) which make it possible to extend the expiry dates and thus facilitate the service and storage of our dishes. The marketing "Take EAT easy by Newrest" concept and the Order'EAT app have been deployed as well.
The MAP Meals project innovation have reached the Greek B&I sites
The Athens team started the CPU production and distribution of 12 Mediterranean meals using the MAP in all its restaurant units. It's been deployed after a period of planning, testing and designing. The challenging technical part of the project was successfully implemented.
Afterwards, teams have been working on creating an attractive and competitive product line. A special focus is given to the creative of the printed paper packaging of the meals and of the fridges they were placed in. The B&I team, in collaboration with an advertising agency, created an impactful brand with a trendy and colorful design called "take EAT easy by Newrest".
Next target of the project is the distribution of the meals to local retail chains.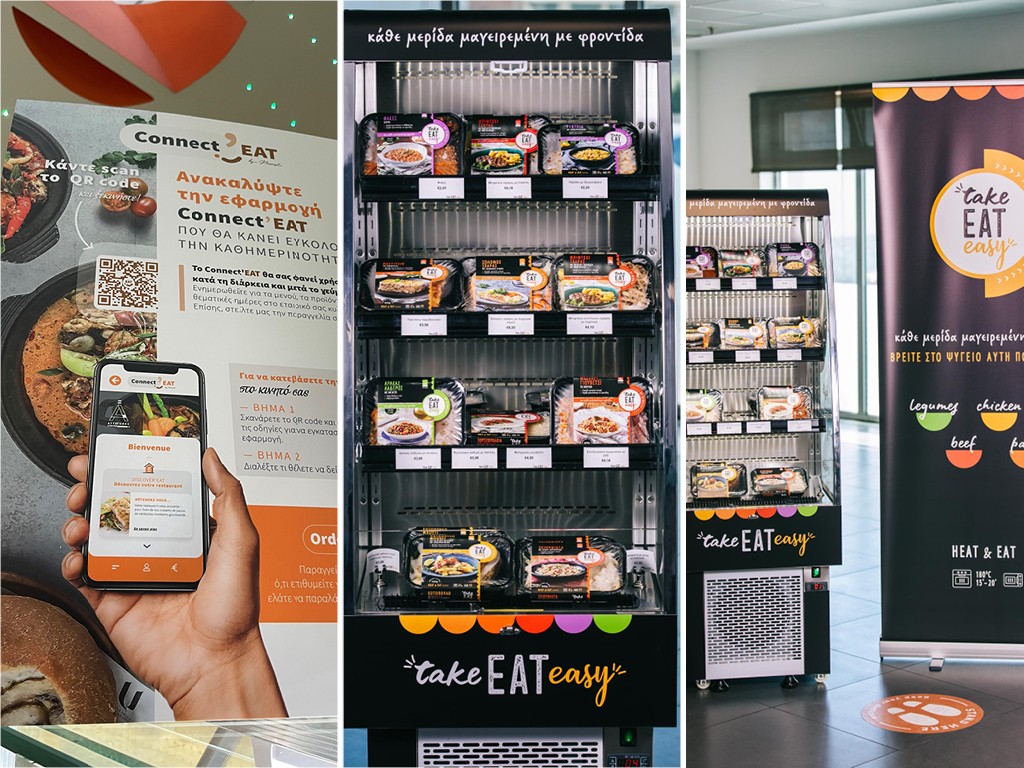 The innovative online application Order'eat is now live in Greece
Newrest Greece successfully launched the Connect'EAT application to all its units. This innovative foodtech application is developed internly thanks to the Newrest Digital Lab. It allows guests to pre-order, save time, and stay COVID Friendly. For Newrest teams, a better management of stocks and flows is accessible through the digital solution Order'EAT.
Customers are impressed by the offer of a rich list of new meals. The clients' management teams and personnel reacted very positively to the new product line and application, downloading the app and tasting the meals. The sales target of the first day was 100% reached. The team is optimistic for the next days, confirming the Group's strategy that following innovation trend rewards and further strengthens our position in the Contract Catering market.
FOR MORE INFORMATION: