Les Alchimistes and Newrest introduce composting into inflight catering
The French group Newrest, a global player in out-of-home catering, and Les Alchimistes, a key player in the collection and composting of food waste in urban areas, announce the signature of a framework agreement to generalize the recovery of biowaste in the sector of Catering and Inflight catering.
Thanks to this partnership, the waste due to the preparation of the meal trays of the flights departing from Paris – Charles de Gaulle and Paris – Orly airports are now collected and valued by Les Alchimistes. Food waste generated by the preparation of more than 5,000,000 meals per year is transported to the composting platforms of Les Alchimistes located close to Paris. They are then turned into compost to feed French soils. The framework agreement is also effective at 3 other airports in France: Toulouse Blagnac, Marseille Provence and Paris – Le Bourget.
According to Olivier Sadran, Newrest's co-CEO and founder: "CSR is part of Newrest's DNA, with in particular two priorities around food waste and waste recovery. Newrest wants to increase the volume of biowaste valued at its sites by 10% per year every year over the next 5 years. The partnership with Les Alchimistes goes in this direction."
In addition to the inflight catering production units that have already revalued nearly 7 tons of biowaste since September 2021 with a good quality of sorting, Les Alchimistes and Newrest are redoubling their efforts in the Catering sector. It has been granted with a first pilot site in Toulouse, the Lycée Sainte-Marie de Nevers, and soon dozens more across France in the coming months.
"We are very pleased with our national partnership with Newrest and the trust they have shown us. Newrest has introduced us to its legal, purchasing and CSR departments in order to deploy the partnership with ambition. With nearly more than 345 Newrest partners in France, this framework agreement is a great growth opportunity and a strong signal sent to the Catering and Inflight sectors to systematize the recovery of its biowaste", adds Mathieu Therial – Co-Founder of Les Alchimistes Occiterra.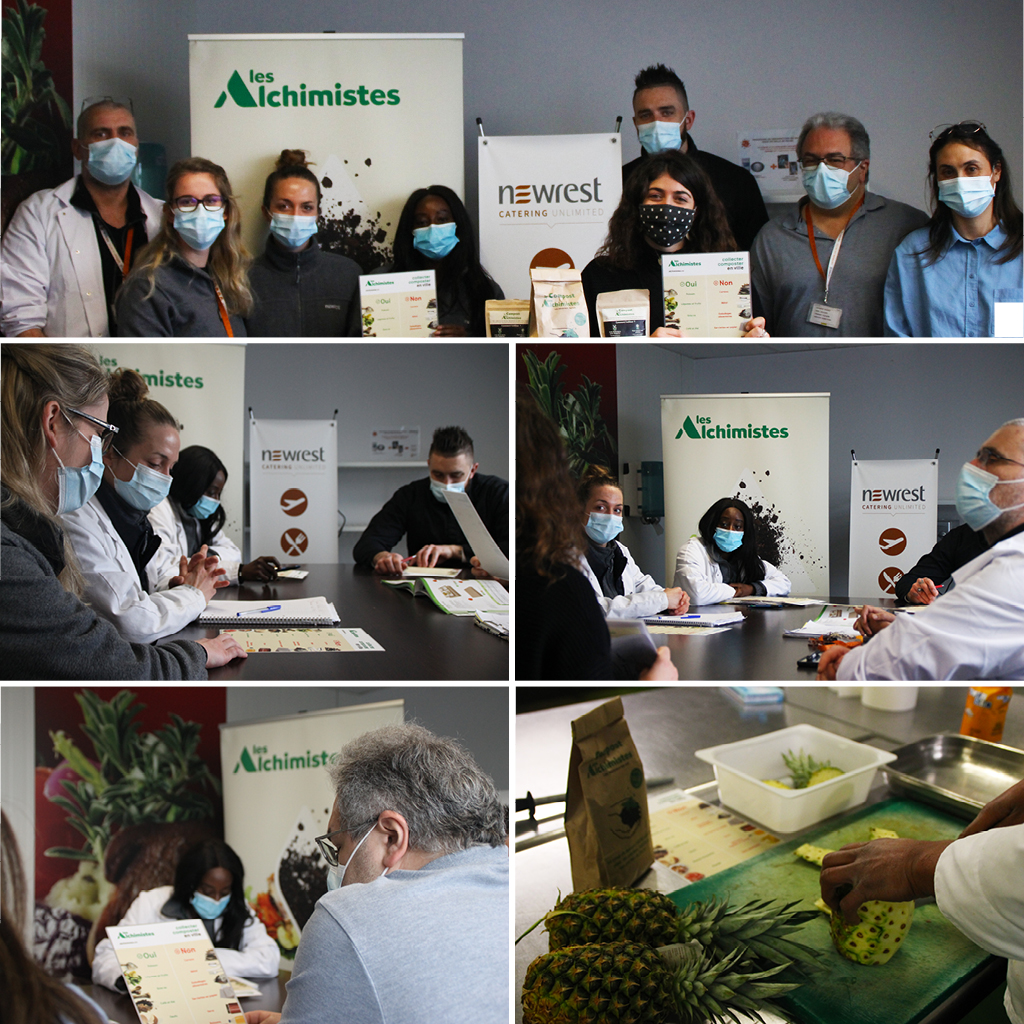 About Les Alchimistes:
Les Alchimistes is an enterprise whose aim is the collection and composting of urban biowaste locally. We value food waste in compost in order to feed the soil. With the composting of food waste, we create a virtuous cycle for more sustainable ecosystems and return valuable nutrients to the land.
Follow Les Alchimistes news:
https://www.facebook.com/LesAlchimistesOcciterra
https://twitter.com/AlchimistesCo
https://www.instagram.com/les_alchimistes_compost/
https://www.facebook.com/lesAlchimistesCompost/
https://www.linkedin.com/company/les-alchimistes-occiterra/
About Newrest:
Founded in 1996 as Catair, Newrest Group, chaired by Olivier Sadran and Jonathan Stent-Torriani, is now the only operator to operate in all catering and related service sectors: inflight catering, buy-on-board, duty free on board, catering, remote sites services, rail catering, airport catering concessions and motorways.
With 29,500 employees in 57 countries, Newrest Group, with a managed turnover of 1,365 billion euros in 2020, is also the world's leading independent player in inflight catering.
At year end closing 2020 (September) Newrest is 94.6% management-owned, with its managers holding its capital (340 managers). The remaining capital is held by Private Equity Funds (3.5%) and Duti Participation (1.9%).
Newrest is committed to a process of continuous improvement and innovation in the services offered to its customers, as well as in the well-being and progression of its employees and managers. The sustainable development of the company and the respect of social and environmental values are at the heart of its activities.
Follow Newrest news:
Newrest CSR commitments – Be the Change
https://www.linkedin.com/company/newrest-