Newrest's inflight catering rises with the resumption of the airline industry
Closely linked to airlines business, Newrest's inflight catering services have been paused until the industry's restart begins. A year and a half after the beginning of the pandemic, good news come from all over the world regarding the resumption of the touristic industry. Slowly but surely, airlines announce one after the other their start up in several places of the world. Newrest stood by companies during the crisis and is now ready to provide its quality inflight catering services to passengers and crews.
Newrest's inflight catering services restart in Spain 
In Spain, the airline activity speeded up its restart using the inflight catering expertise of the Newrest teams deployed on site. Delta Airlines and SAS started their resumption on diverse airports. In Malaga and Alicante, SAS has been flying again since the 1st of June, three times a day with A320 and B737 aircrafts. The restart is also planned in Las Palmas on the 28th of June. Newrest provides to SAS its inflight catering know-how to passengers and crew, offering its catering innovative solutions with a pre-order providing.
With Delta, Newrest has been providing meals since the 7th of June with success. The start-up begins with 3 trip per week. The company will increase its number of flights during August. Economic and affair passengers enjoyed the Newrest's inflight catering solution. The crew takes advantage of the Group's services as well.
Newrest teams are pleased to start up with this leading airline in a new airport. It reveals once again the Group's ability to seduce its clients with its high-quality and innovative standards which make its DNA.

Newrest's inflight catering services resumption in Greece
Delta Airlines also resumed flights out of Athens (ATH) for summer 2021 after a year' suspension due to the Covid-19 pandemic. Summer season flights began with a Boeing 767 on the 29th of May serving JFK (NYC). As of June 1st, Delta replaced the B767 with a larger A330-300 aircraft. A second flight serving JFK, started operating from ATH, the 6th of June and again with an A330-300 aircraft.
Lastly, Newrest Athens is very pleased to announce that effective July 3rd, Delta will re-introduce a direct flight from Atlanta (ATL) to Athens. This third flight will also be flown with an A330-300 aircraft throughout the summer season. It has been many years since an Atlanta based aircraft flew to Athens which shows the high interest for American tourism to Greece in 2021. We wish Delta great success and Welcome Back to Greece!!!
Newrest also welcomes back Emirates' direct, long-haul flight from ATH to EWR (Newark, New Jersey). This route was suspended in 2020 due to the Covid-19 pandemic. This, 3 class flight resumed operating on June 1st with a Boeing 777-300 aircraft serving First Class, Business Class and Economy Class. Newrest wishes Emirates great success with their very important "Open Skies" flight to the US.
Finally, Air Canada resumed its weekly Mainline flights to Greece on the 2nd of June. The Canadian Airline is flying a Boeing 787 aircraft from Toronto and Montreal with Business Class and Economy Class service. This 2021 summer route began with 5 weekly flights and will steadily increase operations to 9 weekly flights. Air Canada will fly through October and we wish them great success. And to all the passengers and crew, Bon Voyage!!!
Newrest's inflight catering activity rising in Geneva
 In Geneva, Saudi Arabian Airlines restarted its fights to Jeddah and Riyadh on the 17th of May, with 3 flights per week on a A320. Economic and Business passengers, but also the Saudia's crew have been invited to eat Newrest's meals since 2010.
With Egyptair, Newrest resumed its activities from Geneva to Cairo since the end of May. For now, Egyptair flies from the Genève Cointrin airport to Cairo once a week. This long-term partnership has begun in 2010 and aims at serving to Business and Economic classes passengers and crew hot meals. The activity may increase to 2 flights per week during the summer.
It has been a year Newrest's stopped its services with these two airlines from Geneva because of the pandemic. Teams are pleased to come back to the good old dynamic and stays ready for other start-ups.
To go further, Newrest's inflight catering resumption around the world
On the 16th of May 2021, Newrest's unit in Ghana was excited to cater again United Airlines from Accra to Washington. United Airlines operates 3 direct flights a week with B787-8 Dreamliner aircraft. The Group is pleased to be part of the United Airlines long-haul expansion plans in Africa. In Johannesburg, Newrest started operating its inflight catering services on the 5th of June with the first United Airlines' flight. Newrest's unit in South Africa successfully started this new customer operating a Boeing 787 (48 Polaris, 21 premium and 209 economic class seats) 7 times a week for a 15 hours journey to New-York.
From Lisbon, Iberojet restarted to operate on the 23rd of May. Newrest teams offer inflight catering services to guests going to Mexico and The Dominican Republic.
The group is thrilled to be part of the global resumption of the airline industry. Newrest stays ready to perform other restarts soon and stands alongside partners that are still waiting to be back.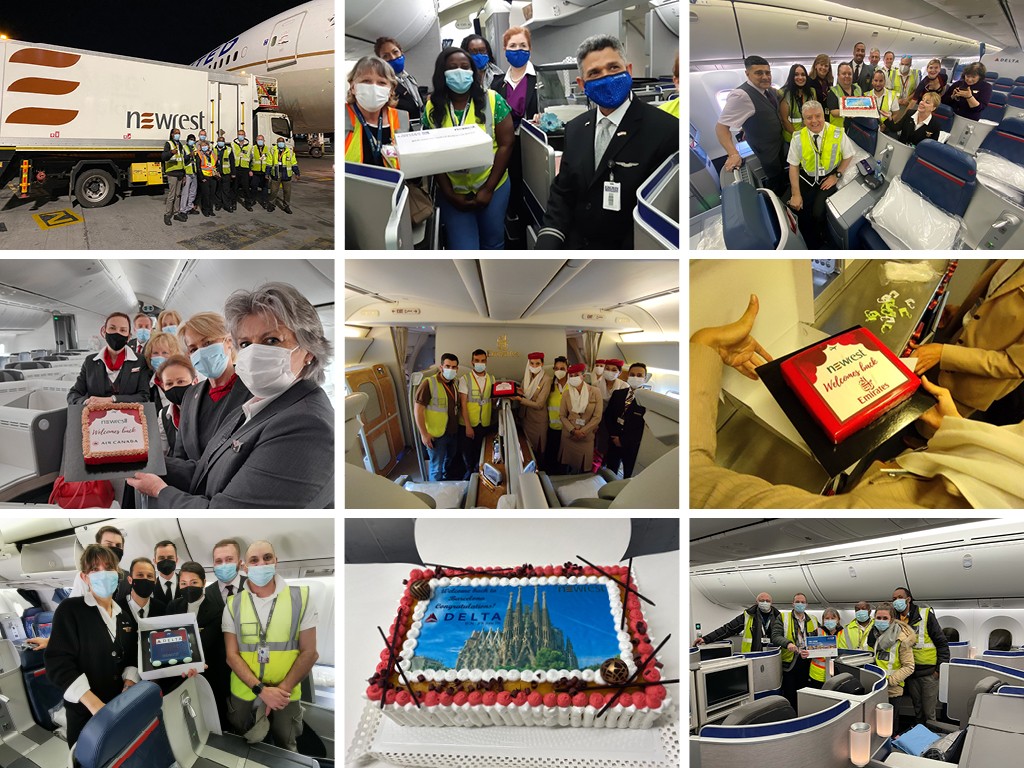 FOR MORE INFORMATION: