Street Attitud' opens in Phnom Penh at the French high school René Descartes
Street Attitud' is coming to the French School of Phnom Penh! Students now benefit from a modern and international snacking concept based on the latest culinary trends!
Newrest, a major player in school catering around the world
Newrest has been operating restaurants in schools from early childhood to higher education for several years now. Its partnership with the AEFE (Agency for French Education Abroad) also testifies to its desire to develop in the catering of French schools abroad. To accurately meet the new expectations of young people, Newrest constantly observes market developments and offers attractive and innovative concepts.
The teenagers of 2022, a whole new population to seduce!
But what do young people want?
The generation of 15–20-year-olds wants to live a unique restaurant experience combining international cuisine, delicacy, and speed. This experience must open to new horizons and include digital solutions allowing different ordering methods.
Thanks to its new Street Attitud' concept, Newrest offers a wide range of street food products inspired by the 4 corners of the world. After Morocco, France, and Tunisia, we are pleased to announce the opening of a new Street Attitud' in Cambodia!
The arrival of the Street Attitud' concept in Phnom Penh
It is at the French school René Descartes, which has just celebrated its 70th birthday, that the catering point has been installed. It has more than 1,200 students and a hundred teachers. As a partner of the AEFE, the school shares the values ​​of excellence, friendliness, and multiculturalism daily.
Street Attitud' establishes itself in this universe, with traditional snacking products and revisited according to the influence of the countries of the world. On the menu, students will be able to enjoy a Greek pasta salad, a croissant with ham or a chicken salad sandwich. On site or to take away, there are also local flavors with, for example, a Lok Lak pita, a fresh passion fruit juice or an avocado smoothie.
Enough to delight young students who already appreciate the concept which they describe as "too cool", and even to seduce parents who find it "resolutely modern and dynamic". A digital click & collect system has been set up to better adapt to the pace of young people and their consumption habits.
Through this concept, the promise of a fast, street, and trendy meal is kept.
The Newrest teams are very proud to welcome this concept to a new establishment and are eager to see the concept develop worldwide.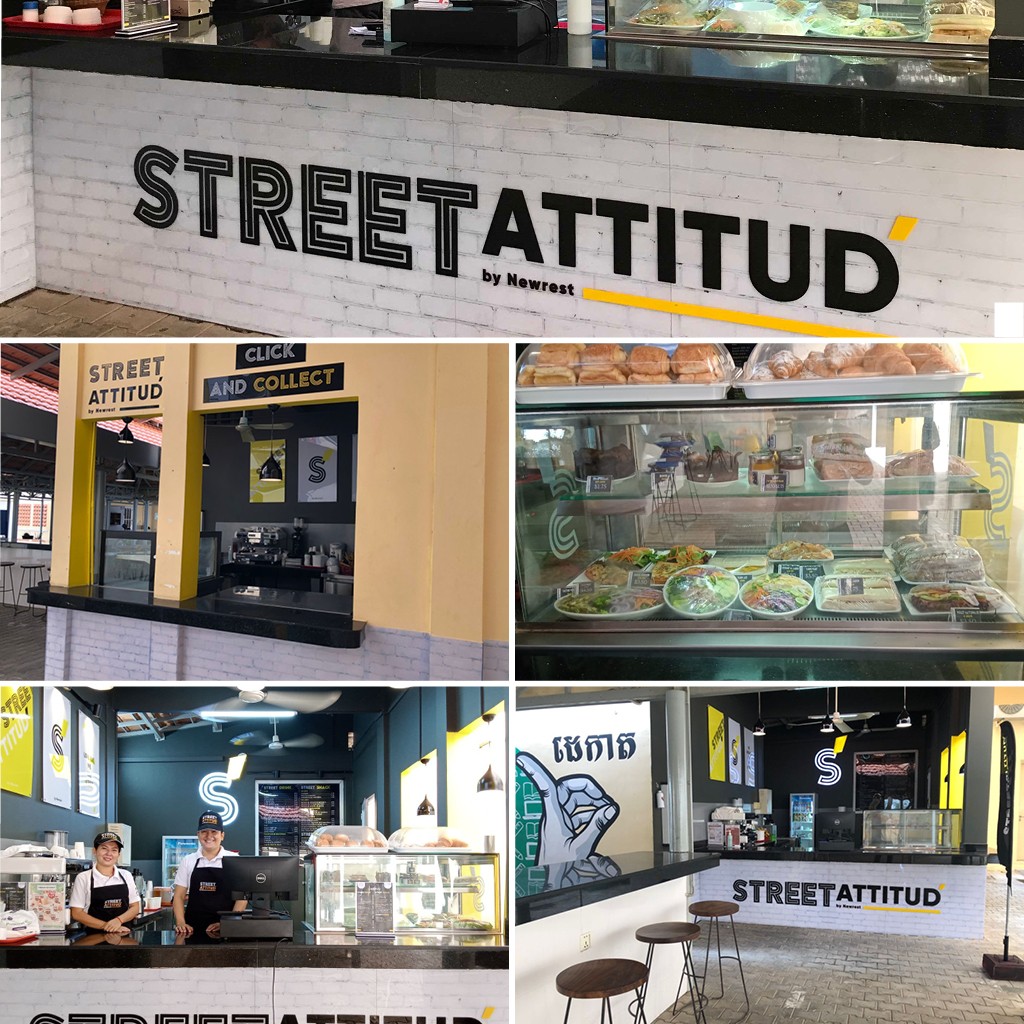 FOR MORE INFORMATION: