CSR initiatives in Nigeria lead a new consuming approach in Newrest's catering
Considering the growing place Newrest gives to CSR subjects in its way to produce catering services, Nigeria showcases best practices in its taken initiatives. In different part of the world, the group grows sustainable farm projects to purchase its products. Committing its collaborators to events that matter for the planet, Newrest definitively takes actions to succeed in its CSR resolutions.
Bio-farm projects grow around the world in the frame of Newrest's responsible purchasing policy
In April 2021, Newrest Nigeria signed a partnership with De RT Anis Specialized farm. With this partnership, a parcel of land belonging to Newrest -is used to cultivate bio agricultural products exclusively for Newrest. This parcel is located beside the facility. It allows Newrest to purchase local fruits and vegetables to provide to its guests.  At the farm site we have tomatoes, banana and Ugwu leaves planted. De RT Anis shall install a bio-digester soon. With the bio-digester, all bio-waste will be converted into manure to feed the bio-farm. This most importantly will help Newrest teams in Nigeria achieve its utmost goal of Zero waste. January 2022 is targeted to actualize this goal.
However, several similar projects to the Biofarm are emerging. These projects are about getting local and fresh vegetables and ensuring food security as committed in "Be The Change": in Tunisia, a collaboration with an agricultural cooperative to cultivate and buy an old wheat variety is ongoing. In Guyana a farm with greenhouses and hydroponic agriculture have been launched thanks to SBM's investment. In Gabon, a focus on local and sustainable purchasing through the procurement of eggs coming from cage-free farmed hens and local fishes is deployed. Finally, to purchase local and high-quality products in Croatia, a collaboration with an agricultural cooperative called Intrata Konavle is currently developed. As in Nigeria, the cooperative is located close to the unit.
Events to take part in the "Be the Change" world dynamic: the example of the World Clean-up Day
On September 18th was the World Clean-up Day 2021. Newrest joined the world in the movement for a Clean Planet from Nigeria and organized a 2-hour Cleanup at Ajibulu street off international airport Road, Oshodi Lagos. A total of 52 Newrest employees joined the total of 67 volunteers. Others present included staffs of FAAN environmental department, Newrest's NGO partners African Cleanup Initiatives and Sobayo Abolore Art Foundation.
The community has also joined the team for the cleaning. Together, 126 bags of solid waste weighing approximately 12kg for a total of 1512kg have been collected.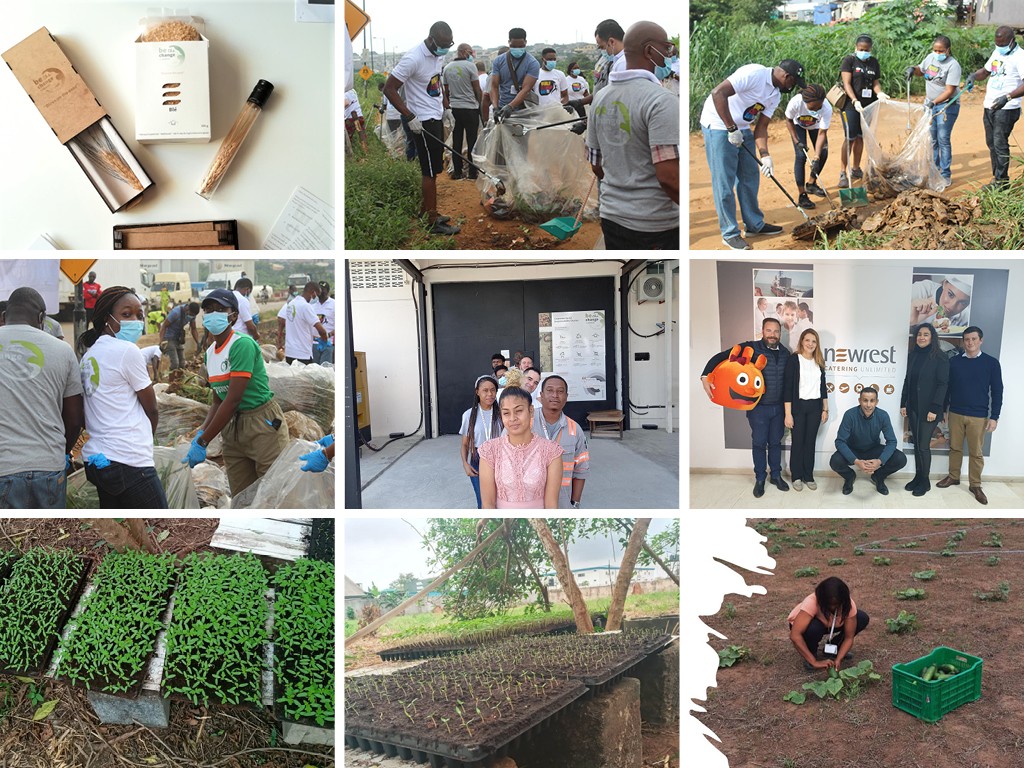 FOR MORE INFORMATION: