Newrest and Qatar Airways celebrate the 10th year anniversary in Montreal
On June 30th, Newrest and Qatar Airways teams celebrated their 10 years anniversary. On this occasion, they looked back on their achievements since 2011 through their hard work and enthusiasm over the decade.
An historical relationship with Qatar Airways which started 10 years ago in Montreal
The inaugural flight of this long-distance Montreal-Doha route took place in June 2011 at the Pierre-Elliott-Trudeau international airport in Montreal. With three weekly flights at the beginning, the impressive partnership later has been expanded to four weekly in December 2018. A daily service is today delivered. Newrest's and Qatar Airways' services had continued even throughout the global health crisis. Qatar Airways never stopped flying to Montréal. Newrest was pleased to be part of this combined efforts throughout the COVID-19 Pandemic. The flight welcomes 36 seats in its QSuite business class, and 247 seats in economy class. Newrest serves 3 meal services for both of them.
This partnership is notably based on the sharing of common values between the two players of the airline industry. Like Newrest, Qatar Airways recognizes the importance of demonstrating environmental leadership to save the planet. The fuel-efficient aircraft A350-900 chosen by Qatar to perform this journey goes along this commitment.
Newrest's high consideration of the passenger experience highlighted by an inclusive 10th anniversary celebration
The 10th anniversary celebration was lots of fun and smiles for passengers, Qatar Airways' crew and Newrest teams. On the 30th of June, the local Qatar team, with the station manager and his teams, the 12 crew members and the 200 passengers lived together this important anniversary. In a friendly atmosphere, they shared a celebratory cookies made by Newrest as they boarded the aircraft. The plane was specially decorated for the occasion, with bouquets of flowers showcasing Qatar Airways' colors. The boarding area has been dressed with balloons and logofied sweets, which grabbed the attention in the airport.
Customers have been honored to be part of the celebration and will keep this memory in mind.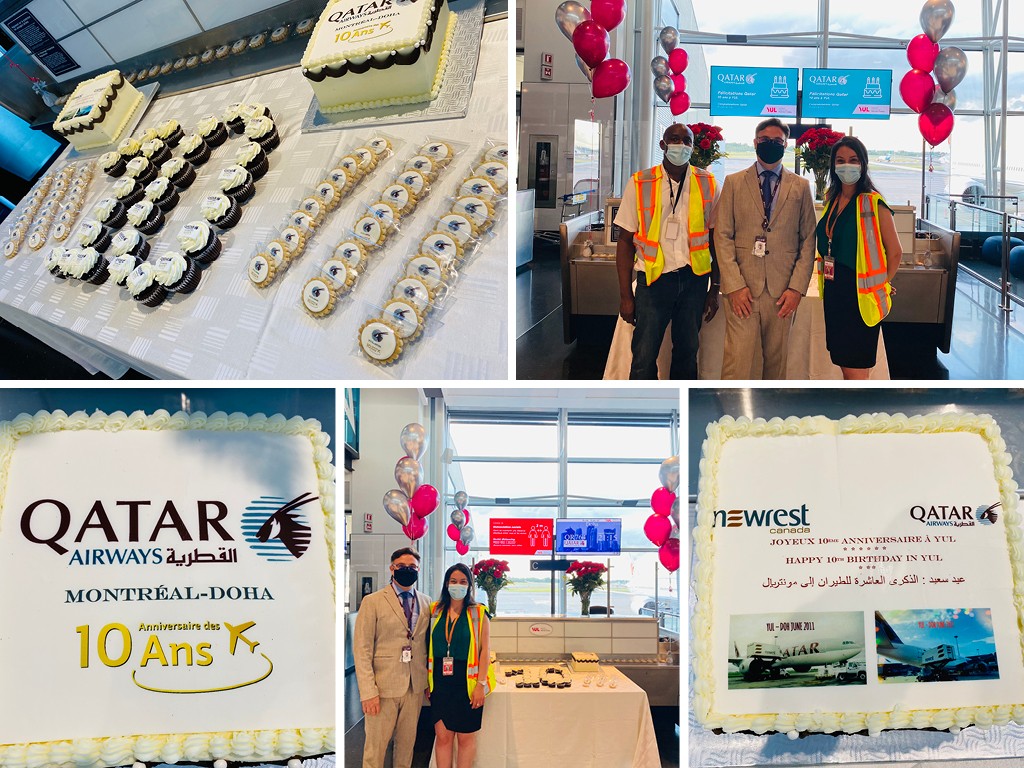 For more information: