Newrest catering services evolve in Morocco with the opening of "My Place"
Newrest opens a new restaurant in Morocco based on the "My Place" student concept. Both the university restaurant and the youth center are dedicated to the students of the Lycée Méditerranéen de Tétouan.
« My Place » restaurant concept opens for the first time in Morocco
Since October 1st, students of the Mediterranean High School located in Tetouan, Morocco, will be able to discover their new restaurant and youth center in the colors of the "My Place" concept. This is the first time that My Place has been deployed in Morocco. This concept is specially designed to meet the expectations of students experiencing boarding school. My Place was designed around the values of proximity and education, conviviality and sharing, and exploration and escape.
More than a restaurant, "My Place" adapts to the needs of relaxation and discovery of young guests. To achieve this, the concept offers a varied range of restaurants in a modern and fun environment. As at home, students compose their meal: starter, hot dish and gourmet dessert are to be chosen from a range of tasty and balanced dishes. Dietetics and nutrition are also emphasized, in line with Newrest's commitment to education.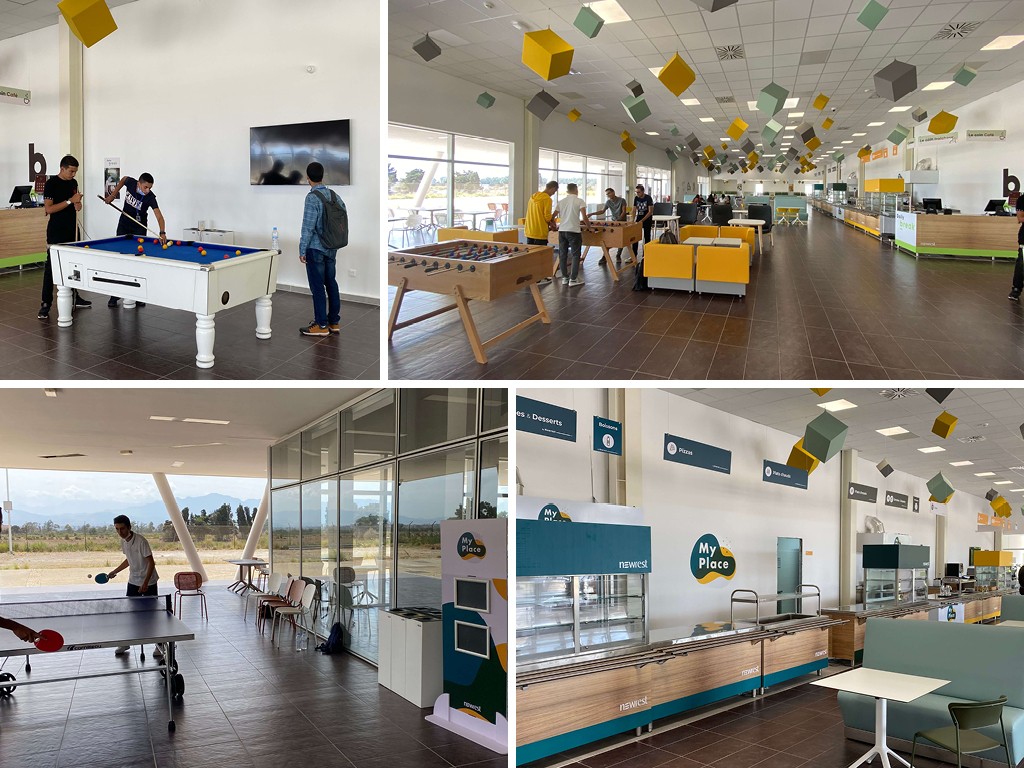 Newrest diversifies its catering offer at the Lycée Méditerranéen
In addition to the opening of the My Place concept, Newrest is committed to serving a diverse range of catering options to its young guests. Aware of changing consumer expectations, the Group wishes to take into account new consumer habits in its culinary services. In order to facilitate the school and after-school life of its guests, the Daily Break cafeteria corner offers a range of good, healthy snacks to eat in or take away. This complements the activities provided by the My Place concept. Finally, the youth center, a place for students to meet and relax, is also available. The LYMED canteen covers more than 1,000 m² and serves up to 700 meals a day.
FOR MORE INFORMATION: