New in Morocco: The ORIGINS menu imagined by Newrest chefs!
On the occasion of the culinary project "ORIGINS by Newrest", Newrest Morocco has imagined a menu with regional flavours and seasonal products.
Newrest has the will to work with seasonal products on the basis of local and responsible purchases. This is in line with the group's CSR charter. In Morocco, a culinary project has been set up, allowing the chefs to express their creativity and to work with regional products.
The team, a trio with a passion for Moroccan cuisine
The team is composed of 2 chefs trainers and the executive chef of Newrest Morocco. On a daily basis, the team members travel to Newrest restaurants to support and train the chefs.
Each one of them plays a well-defined role. Hicham, the executive chef of Newrest Morocco is in charge of special services in Casablanca and throughout the kingdom. He accompanies the managers and chefs on exceptional meals such as cocktail buffets, VIP dinners, presidents' tables and executive meals. He is also a member of the Chefs Unlimited Morocco team.
Rachid is in charge of the Rabat region.  He trains and assists the kitchen teams during openings and provides annual training follow-up.
Finally, Aziz is in charge of the animation programme throughout Morocco. His role is to accompany the chefs and managers to transform the restaurant during the animation day.
 A menu with traditional flavours and seasonal products
The recipes proposed are inspired by delicious traditional Moroccan recipes.
Starter: Eggplant Zaalouk
This is a classic Moroccan salad cooked like aubergine caviar; the vegetables are first grilled and then mixed and seasoned with garlic and spices.
Dish: Cockerel tagine
Did you know that? The tagine is named after the dish in which it is cooked. Traditionally, tagines are made in earthenware dishes on stoves or braziers. The food is simmered over a low heat and stewed under the conical lid. The tajine is traditionally a family dish and a symbol of generosity.
Dessert: Jawhara with pistachio
Originating from the city of Fes, the jawhara also called "Pastilla with milk" is a traditional dessert recipe particularly appreciated to close its meal with a sweet and light sweetness. Jawhara can be made with all the fruits of the season.
Through this project, the culinary know-how of the chefs was put forward for the greatest pleasure of the guests.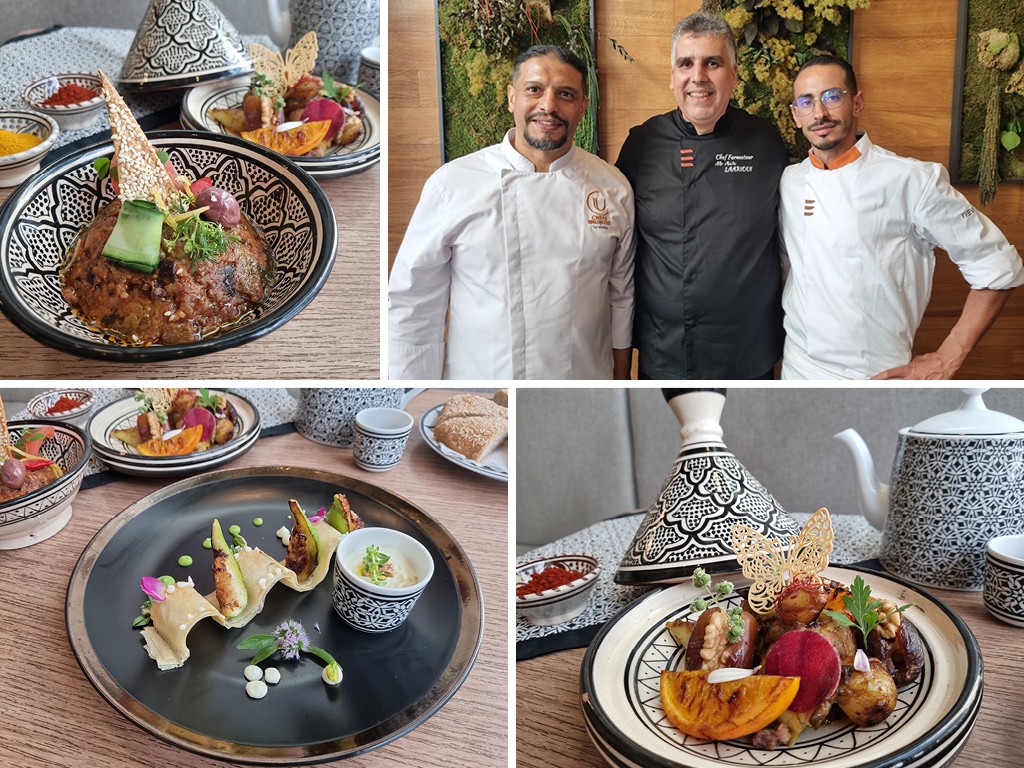 FOR MORE INFORMATION: