Our Chefs highlight the Irish gastronomy to celebrate Saint Patrick's Day
On March 17th, the Irish prove how "Proud to Be Irish" they are. The national day is an opportunity to celebrate, sing, dance, drink, and loudly proclaim their Irish belonging. An exceptional moment, which is now celebrated all over the world with Ireland and its culture in the spotlight!
This year with FESTIVE, we will be introducing you to unique culinary specialties straight from the world's biggest festivals. Ancestral traditions, customs and exoticism will be there.
March 17th is very symbolic for all Irish people. It is the occasion to celebrate the anniversary of the death of St. Patrick, an evangelist who would have explained the concept of the Holy Trinity to the Irish with a clover, making it the symbol of Ireland.

Curious Anecdote: There are more people with Irish roots in the United States of America than in Ireland itself. There are approximately 34 million people with Irish origins in the United States, compared to only 4.5 million in Ireland. For example, every year on St. Patrick's Day, the Chicago River is dyed green in honor of Irish immigrants.
But the Chicago River is not the only one to be colored! Many emblematic places around the world light up in green on the evening of the feast: the Colosseum in Rome, the Croisette in Cannes, Niagara Falls in Canada, the Empire State Building in the USA, the London Eye in London, the Sky Tower in Auckland …
On St. Patrick's Day, ordinarily, the Irish citizens dress up and gather mainly in the streets and in Irish pubs. The day is animated by parades, concerts, traditional music sessions, …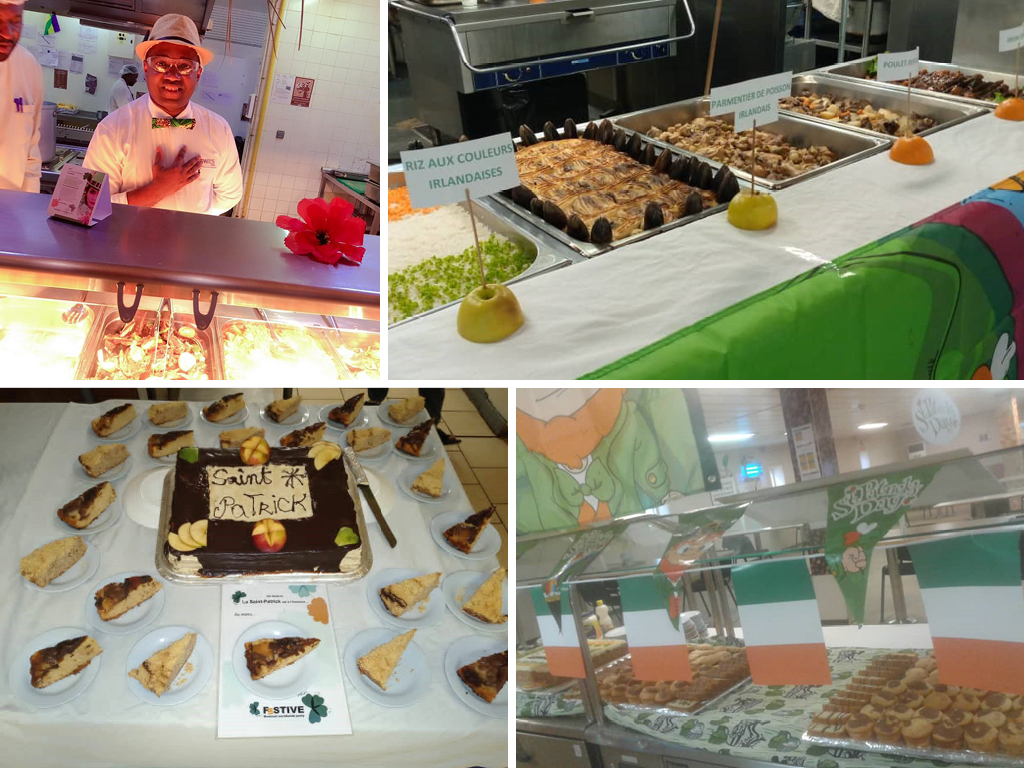 The festive atmosphere of St. Patrick's Day has been put in the spotlight this March in several of our restaurants. Our chefs were, as always, rigorous in the preparation of traditional dishes such as the famous Irish Stew, a lamb stew with carrots and potatoes.
See you next month for new gourmet news with FESTIVE!

FOR MORE INFORMATION: